Roosebeck Rubber Flap Valve for Blow Pipe
Replacement Bagpipe Flap Valve.
This rubber flap valve fits in the end of the Blow Pipe.
It lets air into your bag, and stops it from escaping back out as you draw your next breath.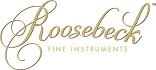 Acoustic musical instruments that have unique roots in the histories & traditions of world music.
All Roosebeck products
Shipping dimension:

6" x 4" x 3"
This product is shipped from our warehouse in Melbourne, FL, USA.
This product can only be shipped to a United States address.
This product is brand new and includes the manufacturer's warranty, so you can buy with confidence.
Please submit your product question using this form. All fields are required.