Roosebeck Harp Tuning Tool - Small
Replacement tuning tool, small.
This tool can tune and restring your harp and fits the smallest of the Mid-East Harps, including the Lily Harp (TM) (HLLA), the Mid-East Lyre Harp (HLRT) and the smaller specialty harps such as the Mid-East Lyre Harp, 8 String (HLRE).




For larger harps try the Harp HPTN, Tuning Tool, Medium.

Measurements for Square Hole at End of Shaft:

4 Square Sides: .16 inches

Diagonally Across: .2 inches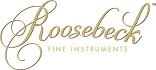 Acoustic musical instruments that have unique roots in the histories & traditions of world music.
All Roosebeck products
Shipping dimension:

6" x 4" x 3"
This product is shipped from our warehouse in Melbourne, FL, USA.
This product can only be shipped to a United States address.
This product is brand new and includes the manufacturer's warranty, so you can buy with confidence.
Please submit your product question using this form. All fields are required.