Psaltery Bow.
Made of Solid sheesham wood with synthetic-hairs.
Rosin for bow is sold separately (item code:VR200).
The Psaltery Bow must be rosined before it can play the strings.
Rosin the ends of the hairs first, in short fast strokes, then rosin the full length from end to end.
Rotate the rosin cake under the hairs as you drag the bow across.
This rotation will maintain a flat surface and prevent a deeply grooved rosin which can damage bow hairs.
A properly rosined bow will have rosin powder evenly distributed throughout the hair.
Never handle the hair of the bow with your hands.
Oils from your skin will leave permanent slick spots that will inhibit retention of the rosin powder.
Clean your bow with a soft dry cloth after each use.
The Roosebeck Microfiber Polishing Cloth is sold separately, and is perfect for cleaning the bow (item code RBSMFPI).
Broken or loose hairs are not uncommon and will not affect the playing characteristics of the bow.
If a hair breaks do not to pluck it out.
Carefully cut the hair, leaving a little bit at both ends.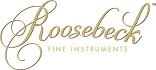 Acoustic musical instruments that have unique roots in the histories & traditions of world music.
All Roosebeck products
Product dimension:

14.5" x 2.25" x 0.375"

Shipping dimension:

24" x 4" x 4"
This product is shipped from our warehouse in Melbourne, FL, USA.
This product can only be shipped to a United States address.
This product is brand new and includes the manufacturer's warranty, so you can buy with confidence.

What is BLEMISHED?
Product codes ending in "-1(S)" or "-2(S)" are blemished. These products are new and unused with superficial blemishes that may include, blisters in the finish, scratches, dents, stains, discoloration, rust or pitting on metals, imperfect glazes, non-structural repairs such as putty in nail holes, or other surface marks. A "-1(S)" product has minor blemishes and a "-2(S)" product has moderate blemishes and/or minor repairs. The irregularity does not affect the playability or sound quality of the instrument. Product codes ending in "-3(S)" and "-4(S)" are also new and unused, but came to manufacturer needing repairs. If it's a "-3(S)," the product has been repaired, but if it's a "-4(S)," it will still require significant repairs when received by the customer. Product codes ending in "PROP" are unable to be played and are for display purposes only.

Please note: For safety during shipping, the manufacturer don't tune the instruments before sending to customers.
Please submit your product question using this form. All fields are required.